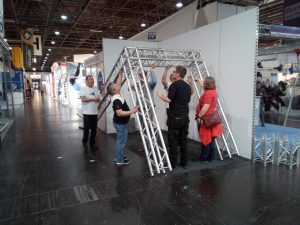 Die Boot 2020 in Düsseldorf ist nun zu Ende gegangen und unser Messeauftritt war ein voller Erfolg. Die gesteckten Ziele einem breiten Publikum unsere Eigenbau-Projekte im Bootsbereich vorzustellen und zum Mitmachen anzuregen wurden mit dem Messestand erreicht. Unser Stand wurde ständig von vielen Besuchern belagert. Alle Gespräche drehten sich um Refit-Projekte zur Modernisierung der Technik an Bord von älteren Booten. Überwiegend wurden kostengünstige Alternativen zu teuren kommerziellen Produkten gesucht, wobei es wichtig war alte und neue Geräte mit OpenSource-Projekten zu verbinden. OpenPlotter und SignalK standen im Mittelpunkt und fanden großes Interesse. Besonders der Marine Control Server hat viele Segler überzeugt, da die Einstiegshürden gering sind und eine fertige Lösung auch käuflich erworben werden kann. Die Projekte um NMEA2000 haben auch großen Anklang gefunden, da erstmals mit geringen Aufwand auch die Welt um NMEA2000 in OpenSource eingebunden werden kann. Im Fokus stand die Visualisierung von Busdaten auf Tabletts und Handys via WLAN, was mit dem NMEA2000-WLAN-Gateway elegant gelöst wurde. Viele Besucher waren erstaunt, dass man selbst mit günstiger Technik wie einem Android-Autoradio und Homeautomations-Komponenten schon komplexe Anwendungen für kleines Geld umsetzen kann. Mit AVnav und einem Android-Autoradio ließ sich sogar ein Eigenbau-Plotter ohne großes Fachwissen leicht selbst bauen.
In lectures we were able to present almost all projects to a broad audience and deepen them in subsequent workshops. We were also able to inspire well-known companies for our idea. Many visitors wanted Open Boat Projects to continue at Boot. We are currently considering how the idea can live on and which priorities will be set for the future. In any case, we will continue to work on our projects and start new interesting projects.
We would like to thank all supporters once again that we were able to realize such a great exhibition stand with their help.
software-projects
hardware-projects
Maker Faire