Open Boat Projects is a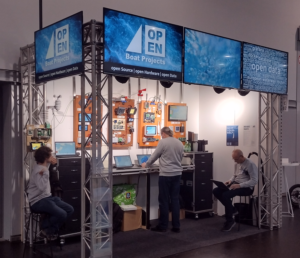 platform on which water sports enthusiasts present their self-constructed DIY projects around boating. The idea for this platform was born in the german sailing forum born and brought into being by some people. It all started with a trade fair appearance at Boot 2020, where a large number of DIY projects were presented live. The aim of the whole thing is to show which tools and technical possibilities can be used to implement your own projects. The projects presented are intended to encourage interested parties to implement their own projects and to contribute their own ideas that can be used by others. The focus is on the idea of open source and open hardware as well as the exchange of ideas. In the meantime, a lot of interesting projects have been realized. More projects will be added in the future. The main exchange of ideas takes place in the sailing forum under the heading open-boat-projects.org instead of. We invite all interested parties to participate in the exchange of ideas. You don't have to be an expert to do this. Anyone with great ideas is welcome to contribute. At Boot 2023 we were again with one of our own booth represented and were able to convey the idea behind Open Boat Projects to many visitors.
Anyone who always wants to be up to date can do ours Facebook site subscribe to. Current articles and other interesting projects are briefly presented there.
If you find the pages helpful and want to support our projects, you can do so here:

If you want to know what we use the money for, you can read here.
software-projects
hardware-projects
Sensors
Instruments
Navigation, information
radio technology
Energy management
Automation
Drives
miscellaneous
assembly instructions
Interactive parts list and assembly help
Beginner Tutorials
video tutorials
developer tools
Web-based tools

onshape (3D CAD, professional CAD program)
BlocksCAD (3D CAD for kids)
EasyEDA (PCB-CAD, with simulation and integrated manufacturing)
Wokwi (Arduino and ESP32 Simulator)
Simscale (simulation program, temperature, dynamics etc., professional tool)
MIT App Inventor (Software development for Android apps)
HTML BOM (Interactive assembly help)
GitPod (Online compilation environment for PlatformIO and others, GitPod Help)
ESP web tools (Online Flasher for ESP8266 and ESP32)
Java Online Compiler (for demo code)
PluckFe (analysis tool for G-code, 3D printing)
JSON data analyzer
HTML and JavaScript beautifiers
JavaScript compressor
JavaScript Scrumbler

PC tools
Raspberry Tools

OctoPrint (remote control for 3D printer with slicer)
Tips and Tricks
Maker Faire
Useful 3D parts for marine applications
open workshops 

3D printing and its possibilities
CAD systems for mechanics, electronics, simulation
Manufacturing capabilities