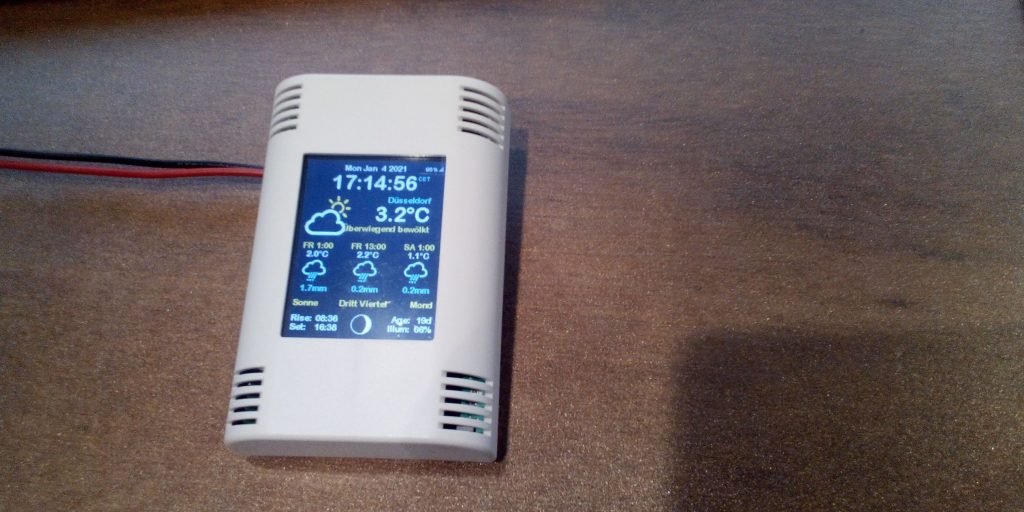 The AZ touch Mod is a small 2.4 ″ touch color display with 320 x 240 pixels. On the base board can be used as a control unit ESP32C or a Wemos D1 mini be attached. A small breadboard allows you to set up your own circuits to expand the display.
The AZ-Touch has the following features:
Wall housing 120mm x 80mm x 35mm (W x H x D)
Resistive touchscreen 2.4 inch (6.14 cm) color TFT with 320 x 240 pixels (ILI9341)
For D1mini or ESP32 Dev-Kit C V2 / 4
built-in piezo buzzer
Integrated 5V voltage regulator (input voltage 9 - 35V DC)
Power consumption approx. 0.7W
On the website of Zihatec.de you can find the full description and the Circuit diagram about the AZ-Touch as well as some software examples.
The weather forecast is available in two versions. Once for the ESP32C and once for the Wemos D1 mini. The weather data is downloaded from the Internet by logging the display into an Internet-enabled WLAN.
Here is a little video about it: https://youtu.be/BkN-VGN96Cg