facebook
forums
podcast
Video
magazine
Etc.
current information: https://github.com/open-boat-projects-org/organisation
staff
| January 2022 | Sat 22 | Sun 23 | Mon 24 | Do 25 | Wed 26 | Thu 27 | Fri 28 | Sat 29 | Sun 30 | |
| --- | --- | --- | --- | --- | --- | --- | --- | --- | --- | --- |
| Norbert (norbert-walter) | 100% | 100% | 100% | 100% | 100% | 100% | 100% | 100% | 100% | openHardware |
| Christian (Chrhartz) | 100% | 100% | 100% | 100% | 100% | 100% | 100% | 100% | 100% | openHardware |
| Dirk (kannix) | (25%) | (25%) | (25%) | (25%) | (25%) | (25%) | (25%) | (25%) | (25%) | openData |
| Michael (Moeritsen) | | 40% | 10% | 10% | 10% | 10% | | 40% | | node-RED |
| Andreas V (wave bird) | | 100% | 100% | 100% | 100% | 100% | 100% | 100% | | AVnav |
| Andreas K (Homberger) | 100% | 100% | 100% | 100% | 100% | 100% | 100% | 100% | 100% | NMEA2000 with ESP32 / Seatalk AP remote control |
| Martin (Martin68) | 75% | 75% | | | 75% | 75% | | 75% | 75% | openPlotter |
| Thomas (glowntiger) | | | | | | | | 100% | 100% | openHardware |
| Michael (DUSmi) | | | | | | | | | | freifunk |
| Julian (jukolein) | | | | | | | | | | |
January 2020
Sat 18
Sun 19
Mon 20
Do 21
Wed 22
Thu 23
Fri 24
Sat 25
Sun 26
theme
Norbert (norbert-walter)
15:00 -15:15
11:45 am -12: 00 pm
DIY wind sensor
Andreas V (wave bird)
3:15 pm - 3:30 pm
2:00 p.m. - 2:15 p.m.
AvNaV
Norbert (norbert-walter)
2:00 p.m. - 2:15 p.m.
 
Android car radio

as a plotter

Norbert (norbert-walter)
12:45 pm - 1:00 pm
 
M5Stack

Multifunction display

Oliver (oliverb68)
2:15 pm - 2:30 pm
Battery charge with

the alternator

Martin (Martin68)
11:30 am - 11:45 am
Refit with OpenPlotter
Andreas K (Homberger)
 
2:15 pm - 2:30 pm
NMEA2000 with ESP32
What is better than sharing knowledge? There is a forum, a group or a blog for every taste:






Forums
Wiki
groups
Blog
Platform
What do we use donations for?

Donations are mainly used to finance a booth at Boot in Düsseldorf. We need the money to finance the stand space and the technical equipment of the exhibition stand with electricity and internet. We also finance the exhibitor passes and take out insurance for the exhibition stand. We also create flyers, business cards and posters. The stand itself will be set up and made available free of charge by Dirk, our stand builder.
Due to Corona, we could not operate a booth at Boot in 2021. As a substitute, we offered online workshops on the Internet. To a small extent, we also use the donations to procure suitable microphones and cameras.
The paid automatic translation service from Google Translate generates our English websites, which we also finance with donations.
We are currently not registered as a non-profit organization and can therefore not issue any donation receipts. We park the collected unused funds and use them for the next trade fair appearance. Donations can only be made via PayPal.
But we are also interested in donations in kind for the construction of the trade fair and our projects. For example, we can use old disused or defective marine instruments for our DIY projects, with which we test the reliability of our self-built devices. Just contact us via  contact form and we mediate the donations in kind to the respective maker.
Financial requirements for the exhibition stand

donations
supporters

ViSdP:
Norbert Walter
Wiesbadener Str. 1
40225 Düsseldorf
Germany
Disclaimer - legal information
Right to information and right of withdrawal
You have the right to inquire about the data collected about you at any time, free of charge and without delay. You can also revoke your consent to the use of the personal data you have provided with effect for the future. For this purpose, please contact the service provider specified in the legal notice.
Data protection (general)
When you access our website, automatically General information (so-called server log files). These include, among other things, the web browser you are using as well as your operating system and your Internet service provider. These data do not allow any conclusions to be drawn about your person and are statistically evaluated by us in order to improve our website technically and in terms of content. The collection of this information is necessary in order to be able to correctly deliver the content of the website.
The website can generally be used without providing personal data. As far as personal data (e.g. name, address or e-mail addresses) are collected, this is always done on a voluntary basis as far as possible. These data will not be passed on to third parties without your express consent.
If a contractual relationship is to be established, structured or changed in terms of content or if you send us an inquiry, we will collect and use personal data from you insofar as this is necessary for this purpose (inventory data). We collect, process and use personal data as far as this is necessary to enable you to use the website (usage data). All personal data will only be stored for as long as is necessary for the stated purpose (processing your request or processing a contract). We take into account retention periods under tax and commercial law. By order of the competent authorities, we must provide information about this data (inventory data) in individual cases, insofar as this is necessary for the purposes of criminal prosecution, to avert danger, to fulfill the legal tasks of the constitutional protection authorities or the military counter-intelligence service or to enforce intellectual property rights.
We expressly point out that data transmission over the Internet (e.g. when communicating by e-mail) can have security gaps. There is no complete protection against access to data.
The use of the contact data published in the context of the imprint obligation by third parties for sending unsolicited advertising and information materials is hereby expressly prohibited. Existing business relationships or you have received your consent from us are excluded from this.
The providers and all third parties named on this website expressly reserve the right to take legal action in the event of unsolicited sending of advertising information. The same applies to the commercial use and disclosure of the data.
Disclaimer
1. Liability for content
As a service provider, we are responsible for our own content on these pages in accordance with general law in accordance with Section 7, Paragraph 1 of the German Telemedia Act (TMG). According to §§ 8 to 10 TMG, as a service provider, we are not obliged to monitor transmitted or stored third-party information or to research circumstances that indicate illegal activity. Obligations to remove or block the use of information according to general laws remain unaffected. However, liability in this regard is only possible from the point in time at which we become aware of a specific legal violation. As soon as we become aware of such legal violations, we will remove this content immediately.
2. Liability for links
This website contains links to external third party websites, the content of which cannot be influenced. Therefore, no guarantee can be given for this third-party content. The respective provider or operator of the pages is always responsible for the content of the linked pages. The linked pages were checked for possible legal violations at the time they were linked. No illegal content was found at the time the link was created. However, permanent monitoring of the content of the linked pages is unreasonable without concrete evidence of a violation of the law. As soon as we become aware of legal violations, such links will be removed immediately from this website to the illegal website.
3. Copyright
The content and works on these pages created by the service providers, their employees and commissioned third parties are subject to German copyright law. The duplication, processing, distribution and any kind of exploitation outside the limits of copyright law require the prior written consent of the respective author or creator. Downloads and copies of this website are only permitted for private, non-commercial use. Insofar as the content on this site was not created by the operator, the copyrights of third parties are observed. In particular contents of third parties are marked as such. If you should nevertheless become aware of a copyright infringement, we ask that you notify us accordingly. If we become aware of legal violations, such content will be removed immediately.

Who is behind the project?
We are a group of makers from the www.segeln-forum.de and exchange our ideas there. With our presence at the fair, we also want to introduce the faces behind the projects and get in direct contact with people. The maker team is not limited to just 6 people and is supported by a large number of other makers.
Norbert Walter is active in the sailing forum and has built one there himself Wind sensor and some other projects presented. He likes the exchange with creative people and is enthusiastic about the variety of ideas in the sailing forum. Professionally, he works in the development of industrial measurement systems.
Christian Hartz is an enthusiastic sailor on the Chiemsee and a gifted hardware developer with lots of creative ideas. He creates one in his spare time Open hardware for OpenPlotter, which is based on a Raspi Compute module. Professionally, he works as a freelancer in the electronics sector.
Andreas Vogel is active in the sailing forum and has its navigation software there AVnav presented on the basis of the Raspberry Pi and Android. Professionally, he works as a freelance software developer and architect.
Andreas Koritnik is active in the sailing forum and deals intensively with maritime communication protocols such as NMEA0183, Seatalk, NMEA2000. Its aim is to give the maker community better access to manufacturer-independent use and expansion of functions with examples of electronics (Arduino and ESP32) and the necessary programs. To this end, he has various projects GitHub provided, including a remote control for a Seatalk autopilot and a NMEA2000 WiFi gateway.
Michael Maass is active in the sailing forum and enthusiastic about the OpenPlotter idea. In his free time he experimented a lot with NodeRed and also Introductory videos created for this. He especially likes exchanges and collaborations in non-commercial projects. He is a teacher of German and geography, but no longer works in school, but as a media consultant for the state of Schleswig-Holstein.
Dirk Eversmann is active in the sailing forum and is committed to open source and open hardware. He is the founder of one Maker Shops and has organized and implemented two trade fair appearances at Boot for OpenSeaMap in the past. Professionally, he works in the event sector and is very familiar with trade fair appearances.

Open Boat Projects is a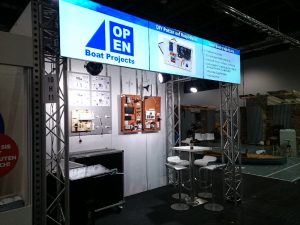 platform on which water sports enthusiasts present their self-constructed DIY projects around boating. The idea for this platform was born in the german sailing forum . It started with a trade fair appearance at Boot 2020, where a large number of DIY projects were presented live. The aim of the whole is to show which tools and technical possibilities can be used to implement your own projects. The projects presented are intended to encourage interested parties to implement their own projects and contribute their own ideas that can be used by others. The focus is on open-source and open-hardware as well as sharing ideas. In the meantime a lot of interesting projects have been realized. Further projects will be added in the future. The main exchange takes place in german sailing forum under the heading open-boat-projects.org instead of. We invite everyone interested to take part in the exchange of ideas. You don't have to be an expert to do this. Anyone who has great ideas is welcome to contribute.
Anyone who always wants to be up to date can do ours Facebook site subscribe to. Current articles and other interesting projects are briefly presented there.
If you find the pages helpful and want to support our projects, you can do so here:

If you want to know what we use the money for, you can read here.
software-projects
hardware-projects
Sensors
Instruments
Navigation, information
radio technology
Energy management
Automation
Drives
miscellaneous
assembly instructions
Beginner Tutorials
video tutorials
Maker Faire
Useful 3D parts for marine applications
open workshops 

3D printing and its possibilities
CAD systems for mechanics, electronics, simulation
Manufacturing capabilities

this site is part of the grade.de network. Please visit https://grade.de/datenschutz.htm for details….