At Boot 2023 we will again be represented with our own booth. This time our booth is in the hall 11 on the Stand C02. We are very close to the forum again. This time, however, directly on the hall wall. To the right of our stand there is still some free stand space. There is also a small coffee terria next door.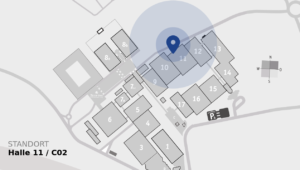 Fig.: Hall overview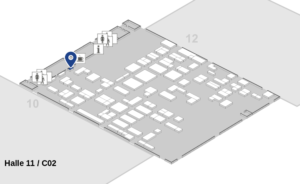 Fig.: Hall 11 stand overview
booth concept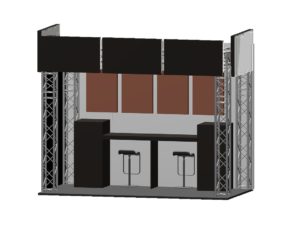 Fig.: Current stand concept for Boot 2023
The booth consists of a usable area of 8m². The stand is designed as a corner stand with 3 open sides. We still have to do detailed planning for the exact stand layout. Basically, we want to present the exhibits on several suspended panels on the two walls. In front of the walls there should almost always be narrow shelves where you can put a laptop with paper and pen. QR codes are attached next to the exhibits, which can be used to access further information about the project. At least two stand supervisors will be available as contact persons at the stand. As it turned out last time, more people are needed, since there was quite a large rush and there was a great need for explanations and advice. We will try to staff the stand with 3-4 people.
financing
The exhibition stand is financed exclusively through donations. We have already collected part of the money through donations in 2021 and 2022. Of the Minimum financing requirement is 3000 euros. If we still need Internet access at the stand, we are at 3500 euros. Currently 2480 euros have been collected. So we need more donations to finance the stand. The costs look like this:
Stand area 1596 euros
Media flat rate 470 euros
Technical services 353 euros
Standard 30 euros
Electricity requirement 0.80 euros / kWh (total requirement approx. 25 kWh, 18.40 euros)
Discounted day tickets for exhibitors 20 pieces 200 euros
Disposal flat rate 23 euros
WiFi license 250 euros
Internet connection 460 euros (optional)
Further donations can be made via PayPal. All donors take part in a raffle and can receive a small thank you. The following items are available as a thank you: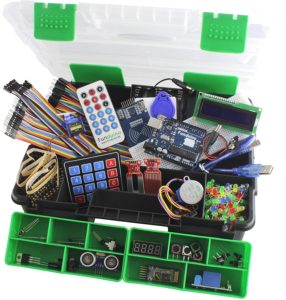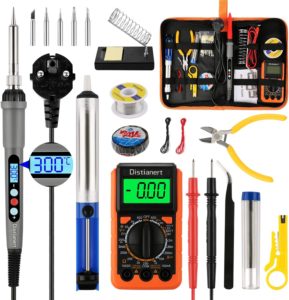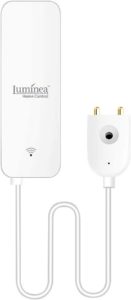 If you would like to take part in the raffle, please provide your name and email address with the donation so that we can track the donations. Thank you in advance for the support.

exhibits on display
The following projects are planned as exhibits:
Marine navigation software AVnav
Marine Control Server (MCS)
10″ plotter suitable for daylight with a Raspberry Pi (new)
NMEA2000 projects
NMEA2000 gateway with M5Stack Atom (new)
Multifunction display OBP60 (new)
Android car radio as plotter replacement
M5Stack as display replacement
Boat automation with Tasmota
WiFi battery monitor (new)
PiCAN for Raspberry Pi (new)
Sensor Roovi Tag (new)
Foredeck camera
Yachta wind sensor (new)
Open Sea Map on Garmin devices (new)
LoRa boat monitor (new)
Automation with Shelly and Tasmota (new)
I2C modules for boat automation (new)
Stand support
The booth will be manned by at least 2 people at all times. Depending on availability, 2 more people can add to the stand. We will draw up an occupancy plan for stand supervision, which shows which person is available as supervisor and for what period of time. 3 exhibitor passes are available for stand support. We will book discounted day tickets for additional people. For stand supervisors who come from outside and need a place to stay, we will try to organize cheap rooms.
Lectures in the forum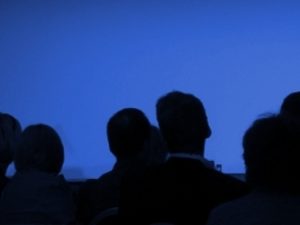 Right next to our booth is the forum for specialist lectures in hall 11. We will be there with some lectures on the following topics:
Maritime Data Servers (Guntmar Hoche) sat 01/21/2023 4:05 p.m

Universal data storage and visualization of measurement and sensor data on the Internet based on simple microcontroller modules
AvNavNavigation (Andreas Vogel) So. 01/22/2023 10:40 am

Presentation of the new functions of the open source navigation system AvNav
LoRa boat monitor (Norbert Walter) Monday, January 23, 2023 at 11:40 a.m

LoRa boat monitor to monitor the boat when you are away
ESP32 Atom CAN as NMEA200 gateway (Andreas Vogel) Tue 01/24/2023 2:20 p.m


Simple NMEA2000 gateway based on the ESP32 Atom CAN
Multifunctional display OBP60 (Norbert Walter) Wed. 25.01.2023 2:55 p.m

DIY multifunction display for displaying various bus data for
NMEA2000, NMEA0183, I2C, 1Wire
DIY Wind Sensor Yachta (Norbert Walter) Thursday 01/26/2023 1:10 p.m

Presentation of an easy to set up wind sensor for NMEA0183
Andriod car radio as a plotter (Norbert Walter) Fri. 01/27/2023 4:30 p.m

Android car radio as navigation plotter for boats
ESP32 Atom CAN as NMEA200 gateway (Andreas Vogel) Sat. 01/28/2020 11:00 a.m


Simple NMEA2000 gateway based on the ESP32 Atom CAN
Open Plotter updates (Martin Stell) Sun. 01/29/2023 12:45 p.m

Open plotter trends and news
Workshops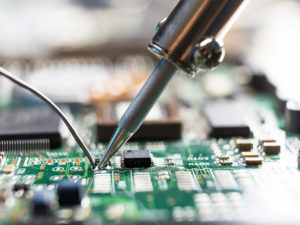 In addition to the exhibition of DIY projects, we will also offer workshops on a small scale, which will mainly be offered on weekends. In groups of up to 8 people, the following topics will be presented:
Location: Workshop area in Hall 11 next to the Forum
Arduino IDE (Norbert Walter) 8 participants Sat 01/21/2023 4:25 p.m (Ticketing)

The workshop shows how to work with the Arduino IDE. Using a small, simple example, it is explained how to set up a circuit with an Arduino on a breadboard, write a program, transfer the program to the Arduino and finally test the circuit.
Target group: Beginners without prior knowledge
NMEA2000 (Andreas Koritnik) 8 participants Sun. 01/22/2023 12:00 p.m (Ticketing)

The workshop shows how to evaluate NMEA2000 bus signals with an ESP32 DevBoard. Small circuits for receiving and sending NMEA2000 telegrams are set up and tested. The Arduino IDE is used to create programs for communication on the NMEA2000 bus.
Target group: advanced
Precondition: Knowledge of C/C++ programming and handling electronic circuits
3D CAD with Onshape (Norbert Walter) 8 participants Thu 01/26/2023 3:35 p.m (Ticketing)

The workshop explains how the online CAD program Onshape works and how to create a simple 3D model for 3D printing. Participants can create a 3D model themselves on laptops and continue working on it later at home.
Target group: Beginners without prior knowledge
Precondition: Email address to sign up for Onshape
NMEA2000 (Andreas Koritnik) 8 participants Fri. 01/27/2023 5:00 p.m (Ticketing)

The workshop shows how to evaluate NMEA2000 bus signals with an ESP32 DevBoard. Small circuits for receiving and sending NMEA2000 telegrams are set up and tested. The Arduino IDE is used to create programs for communication on the NMEA2000 bus.
Target group: advanced
Precondition: Knowledge of C/C++ programming and handling electronic circuits
DIY wind sensor NMEA2000 (Julian Böhm) 6 participants Sat. 01/28/2023 11:20 am (Ticketing)

The workshop shows how to use simple means to build a wind sensor for a boat from a weather station. The participants modify a weather station and convert it so that it can be used as a wind sensor on a boat for NMEA2000.
Target group: advanced
Requirements: Craftsmanship, experience with microcontrollers and programming
own contribution: 50 euros for weather station and material
information
For further information about the projects, we will use QR codes that refer to our homepage. There will also be a hand flyer for rough orientation in German and English, which will be available on the brochure stand. We will also display other brochures on related products in the brochure stand. We will design the workshops in such a way that the course material is available online and is also available to other interested parties who did not attend the workshop. If we get the consent of the workshop participants, we will also create video recordings of the workshop. We will make the forum presentations available for download on our website.
tickets
For visitors to our booth we can Discounted day tickets for 10 euros hand over. the Booking the tickets is possible via the form. You will then receive a voucher code, which you can enter online before visiting the trade fair website of Messe Düsseldorf. However, make sure to redeem the voucher before visiting the trade fair. The voucher code cannot be redeemed directly at the box office.
The booking deadline is January 20th, 2023. Please understand that we can no longer issue day tickets during the trade fair. We are then too busy with the fair.
opinions and ideas
In order for the trade fair appearance to be a great success, we need your cooperation. Tell us which topics interest you and what we should exhibit or what we can do better. Just use this contact form.
impressions
Construction
booth
Workshops
lectures
exhibits
reports
At this point a summary of the trade fair activities of Open Boat Projects. Boot 2023 ended yesterday and we have 9 exhausting days behind us. In the many discussions we were able to convince the visitors of the open source idea and show that with moderate effort and on your own initiative you can achieve useful results. The biggest magnet was the AvNav navigation solution, which we were able to show live in a wide variety of versions. Once with the Glowntiger MSC as a large solution and a second time with the PiCAN-M as a small solution. The connectivity to various buses were the most striking features. With the recorded live data from Oleg's turn in the Baltic Sea, we had realistic NMEA2000 bus data for all devices. In the meantime, Thomas has managed to make the MCS available again in a second, somewhat slimmed-down version V2.0, despite the amount of work he has to do. However, stocks are depleted very quickly. If you still want a board, you shouldn't hesitate too long. AvNav as an Android app was available on car radios, tablets and the Nokia Streaming Box 8000. The connection to the bus systems was realized with an M5Stack Atom. Many did not notice this inconspicuous solution because the module is so small and hardly anyone suspects that such a functionality is in the tiny part. Wellenvogel has succeeded really well with this smart solution. Without Homberger's excellent preparatory work, we would not have progressed so quickly.
The wind sensors have also aroused great interest. In particular, the wind sensor Yachta, which is quite easy to replicate. In the future, we will probably also be able to offer the 3D parts as stock goods at acceptable conditions via a 3D printing service provider. The parts are manufactured using the SLS process. They are waterproof, UV-stable and can withstand temperatures of up to approx. 90°C. Until then, however, we have to rework the 3D parts again.
Andrea's workshop on NMEA2000 was the most successful workshop with 6 participants. Well prepared, he was able to talk about NMEA2000 in about 1 hour. Overall, however, it turned out that workshops at the fair are not really accepted. In the future we will no longer want to offer something like this at the trade fair and will rather hold online workshops on the Internet. Anyone interested in an NMEA2000 workshop can contact Homberger directly or via open-baot-projects.org.
In his workshop, Julian was able to instruct 2 participants in converting a W132 wind sensor to NMEA2000. The two participants were highly motivated and fully involved. However, the organization and implementation of the workshop was very time-consuming. At this point, once again, a big thank you to Julian. As the youngest member of our team, he was also able to get young people enthusiastic about our idea. He approached people without hesitation and was able to quickly break the ice. Even people who happened to come by and had no specific interest were enthusiastic and amazed at what we were actually doing. Two film teams were also at our stand. With his perfect English he was able to give SailHub an interesting interview.
With Martin we had one of the makers behind Open Plotter with us. He was able to show many new details not only about Open Plotter. With his knowledge, he was able to give many visitors competent answers.
One of the frequently asked questions was which company we are and what we sell. After we said that we don't sell anything, just offer ideas for free and do it all for fun, many were puzzled and respected the idea behind Open Boat Projects. The type of financing for the exhibition stand was also often an issue. I would like to once again express my sincere thanks to all donors. This would never have been possible without your donation. In the next few days there will be a raffle among all donors.
The new appearance on the monitors was the work of my daughter Lina. She also created the posters and helped me make the logos on the sweatshirts. The constantly running video of Abyss on the middle monitor was a nice stopper. The most beautiful moments of sailing were captured in skilful recordings and you could feel why you put all the technical effort into the boat. I really liked the look of the booth and it looked better than the first time, although some boards were a bit overloaded and not grouped thematically. But that was mainly due to the recycling of the old boards from the first booth. New topics were presented on other boards, such as Christian's 10″ plotter, which immediately caught the eye of many. In the fourth edition, many things have been revised again and the overall concept is much more coherent than in the previous versions. In particular, the IR remote control has convinced many visitors. There is now a large fan community and a group of 14 people are reproducing the latest 10″ plotter. Many makers eagerly await the next steps and parts from Chrhartz so that the plotter will be ready in time for the season. With a bit of luck, the procurement of new displays, which are even adapted to our needs, will probably also be solved.
Our exhibition stand builder Dirk is the man from the off without a face. Versed, he gave us a beautiful booth that was really something to be proud of. In our environment, our trade fair stand was a feast for the eyes and clearly set itself apart from the other trade fair stands. The assembly help from Homberger and NoStress ran without any problems and the stand could be set up quickly. On the last day of the fair we only took the most valuable items with us and dismantled the booth a day later. It was much less stressful, because you could easily drive your car in front of the hall and loading it was really easy. In a good 2 hours, the three of us took down the stand. At this point, thanks again to Dirk, who not only made the booth available, but also hosts our website.
Finally, I would also like to thank my wife, who had my back and gave me enough freedom to prepare and hold the fair. I couldn't have done it without your help. I will always remember the legendary breakfast to which Chrhartz, Wellenvogel and Jukolein were invited every morning. That's how we found a real team.
There will not be a booth at Boot 2024. The effort is just too great for that. I think we don't have enough new projects to really present anything new. However, Open Boat Projects can have a stand again at intervals of 3 to 4 years. Until then we can work hard on new projects.
Norbert