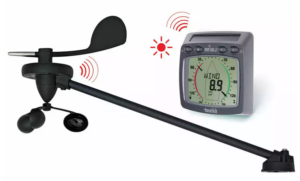 Fig.: Masttop transducer T120 (Raymarine)
MicroNet is a wireless sensor data transmission method supported by some Raymarine sensors and displays, such as the T120 masthead wind transducer and the Log + Echosounder system in conjunction with the Marine TackTick T100 display. Raymarine also offers a gateway called Micro-Talk that can convert data from the wireless MicroNet to SeaTalk NG. This data can also be used in the SeaTalk NG network. MicroNet is a proprietary protocol and is not supported by any manufacturer other than Raymarine. Some MicroNet devices can be solar powered, such as the T120 masthead transducer and the Marine TackTick T100 indicator. Therefore, these systems can also be found on small regatta boats such as dinghies and were primarily designed for this.
open-source
There is not much in the Raymarine documentation on the MicroNet data transfer protocol. Some people from forums.ybw.com have analyzed the protocol by reverse engineering and figured out how it works.
Modulation 2-FSK
Frequency 869.845MHz
Deviation 32kHz
Bandwidth 250kHz
Data rate 76800 bps
SyncWord 0xb320 (It is not known if the value is standardized)
There is a project on GitHub that has a MicroNet2NMEA gateway describes with which data from the MicroNet can be converted to NMEA0183. This allows the two sensors wind sensor and log/speed to be connected to standardized on-board networks such as NMEA0183. With additional NMEA2000 gateways, the data from the MicroNet can also be integrated into NMEA2000 networks.