Introduction of Node-Red for sailors: Video
What is Node-Red?
Node-Red is a visualized programming environment that comes from the IoT area. It is primarily used to connect sensor hardware and the corresponding data visualization. Node-Red consists of so-called nodes, which are connected to one another using rubber band technology and thus determine the flow of data.
What do sailors get out of it?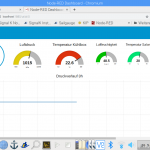 Node-Red offers nodes to read sensors, to process NMEA-0183 data via serial interfaces or to read and process SignalK data streams.… Continue reading